Welcome to Translink
With roots in Uganda stretching for over 110 years, the Translink group is very much a Ugandan entity, having made substantial investments in the country in areas such as infrastructure, property, and employment.
FMCG Division
Translink (U) Ltd incorporated in 1991 is a well established, leading distribution house in Uganda, representing some of the worlds most distinguished Multi National Companies. Translink also operates across East Africa, including Kenya and Rwanda.
 http://www.facebook.com/translink.uganda/
FMCD Division
Transtel is also headquartered in Kampala, Uganda and distributes Samsung and Beko Products.
 https://www.facebook.com/transteluganda/
History
With roots in Uganda since 1905, Translink (U) Ltd is very much a Ugandan company.  The time spent in the UK following Idi Amin's coup d'etat has given the group's founders invaluable experience and knowledge of how to professionally set up and manage the organisation. This experience fused with a sound understanding of the local Ugandan market has turned the group Company into a formidable force in national distribution.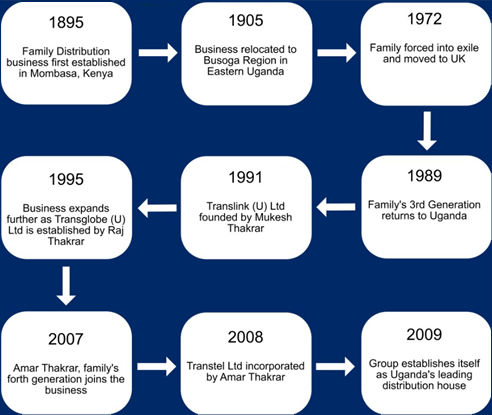 Vision, Scope and Quality Policy
The group's vision is to maintain the No.1 position in its distribution line in Uganda for the benefit of its Shareholders, Clients, Employees, Suppliers, Society and the Government of Uganda.
This vision is aspired for through:
Installation of adequate infrastructure.
Partnering with only the most reputable suppliers.
Training and development of a skilled and motivated team.
Achieving optimum productivity from the staff and System.
Implementation of the "SMART" Quality Objectives within all Core Business Processes in the Company.
Strategic Marketing & Sales by Planning and not default
Our scope as a National Distribution Group originate from Principal Country Strategy and consumer demand through to receipt of inventory, efficient storage, handling and distribution of the same for a profit, to promotional and after sales activities.
Our Quality Management System is applicable to all Critical Processes that have a profound effect on the products and services offered by the Company, based on the Company's Objectives.
A Committed Contributor
The Translink Group was positioned as Uganda's 66th largest taxpayer for the year 2008, the highest position of any distribution company in the country.
The group's high tax compliance and transparency in all business activities has greatly helped in building a strong and healthy relationship with all the various authorities.
Business Principles
Honesty and integrity in all business dealings
Equal opportunity employer
Development of talent and potential in each person and team
Environmental consciousness
All business activities carried out as per the goals set by shareholders
Excellence in Distribution
With a highly skilled and experienced workforce together with a robust network of regional distributors, we are able to service various distribution channels and extend our reach to the most remote parts of the country.